When was your system last hygienically cleaned and checked?
Your Air Conditioning System Should Be Hygiene Serviced and checked at least every two years, book your hygiene check and service system today! View below the optional services we offer!
If you would like further details or would like to make a booking, please contact us 01452 52 01 23 or submit our contact form.
OPTION 1
Full Service Of System, which includes:
Removal Of Existing Refrigerant and Oil
Vacuum Test
Insertion of fresh Oil
Pressure Test
Insertion of ultra violet leak check dye
Insertion of fresh refrigerant
Cleansing of air duct system to de odorise venting system
£69.99 + vat
OPTION 2
De Gas and Re Gas with leak check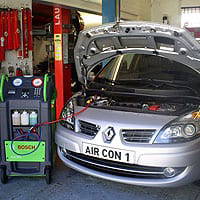 £50.00 + vat